Escape to the Blyde River Canyon

100% POWERED by the SUN
Welcome to umVangati House
We are 100% Powered by the Sun with NO power interruptions.
Tucked away in the heart of the Blyde River Canyon, one of South Africa's most glorious scenic destinations, umVangati House is sure to restore your sense of peace from the moment you check in. Nature is showing off her beauty here and silence is abundant.
Understated elegance greets visitors to umVangati House, where a warm friendly welcome sets the ambiance. This intimate owner-run retreat offers friendly service, privacy and exclusivity. Whether it's for a special occasion like a honeymoon or anniversary, or if only to escape for a weekend, umVangati House immediately cuts you off from the hustle and bustle of everyday life. This is the ideal haven for those seeking to slow down, de-stress and repose. umVangati House is a adult (16+) only establishment.
PLEASE NOTE: Normal rates does not apply for an exclusive use of umVangati House, please contact us for more information to book all the rooms. We have a resident Dog and Cat on the property.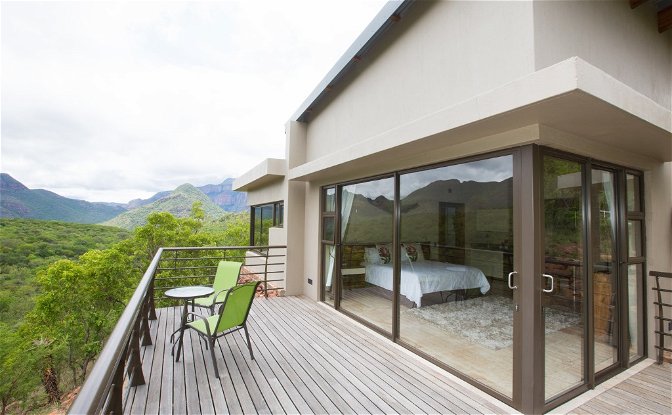 Stay at umVangati
A rare blend of spacious luxury, modern guest facilities and the surrounding tranquil mountainous setting await you at umVangati House.
Whether you are exploring the breathtaking scenery of the Lowveld of Mpumalanga and the jewels of Limpopo, or getting acquainted with African Wildlife at Kruger National Park, our centrally located guesthouse is an ideal base to discover the area.
umVangati House is located in the heart of the Blyde Canyon, the third largest canyon in the world, and the largest 'green canyon' due to its lush subtropical foliage, with the deepest precipitious cliffs of any canyon on the planet.
Guest Reviews
What an amazing weekend, everything from start to finish was amazing.You will always have a special place in our lives.

Adolph & Refilwe

South Africa - Witbank

Dear Giel & Lidia, This was an experience of a lifetime. Being in your fantastic country and experiencing such fantastic food, wine and accommodation was incredible. Thank you.

Andy & Eva Mc Lean

Australia - Melborne

For us the real "God's window" in the paradise. Thanks for all!!!

Bodo & Monika

Germany

Simply stunning. Amazing hosts, food, wine, views - don't want to leave - we will be back!!

Kath & Steve Jones

Switzerland - Basel